About us

We provide clients with PRC law capability across a range of commercial legal practices.

We support our clients by:
> aiming to deliver first-class legal support to international and Chinese clients to help them achieve their commercial ambitions
> providing international and domestic legal advice, ensuring we are globally minded while delivering a locally focused service
> aiming to provide excellent client service
Our Shanghai Free Trade Zone Joint Operations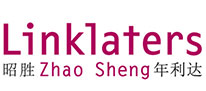 Linklaters Zhao Sheng is a joint operation between Linklaters LLP and Shanghai based Zhao Sheng Law Firm. The Joint Operations has been approved by the Shanghai Justice Bureau.
Linklaters Zhao Sheng brings together Linklaters' long-standing international experience on the most significant deals and Zhao Sheng's PRC-law capabilities to deliver excellent client service. We can utilise our global capabilities to help our clients pursue the right opportunities and ensure they benefit from our long and lasting relationships.